Sis gave me a vintage book awhile back entitled THE ROMANTIC WAY An illuminating study of four women in pursuit of love and high adventure.  "Here. You can add this to your ETSY SHOP."  Sure, I'll take it.  Far be it for me to turn down a free book.  I opened it and started to read.
Caroline- Duchesse de Berry, Marie d'Agoult, Eve Hanska and Marie Bashkirtseff.  But which to read first? I began with the second Marie. 
Long ago during my F.C. (First Marriage) I had unearthed a translation of her passionate diary from French.  A nice old copy published in 1913 no less.  My first attempt at reading the diary of this talented painter, I was a bit taken aback.  I was much younger and newly married.  Her diary was so frank and honest. It was overflowing with more melodrama than I had ever known.  Now that I am older and have experienced more of life, the good times and the bad, her intensity of life is a strange comfort to me.  I lift her words up time and time again.  And choose a page at random. Anywhere will do.
"I am the most interesting book of all."
"I dream of the gallantries of past centuries and all unaware, I am the most romantic of women-how unhealthy it is!" 
Such intensity.  It's hard to read her words and not consider the time in which they were written.  To try and imagine what it would have been like to see the world through her eyes.  I could ramble on about the poor woman all night but I started out with the intention of blogging about Eve & Balzac. Was she indeed a "poor woman."  Some live to be 100 and do not love and live as she did.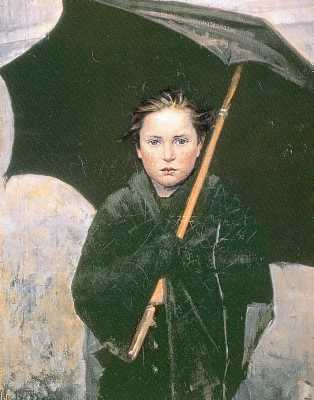 "There are moments when I do not know what I detest, what I love, what I desire, nor what I fear."
Tragically, Marie only lived long enough to see her mid 20's.
Okay now I've gone and done it.  I've lost my mojo for Balzac and Hanska.  And I forgot that the title and quote for this post was in reference to Eve.  It certainly does not describe Bashkirtseff. Oh well.  Another night perhaps...